2023 Team Competition - Leaderboard and Information

LEADERBOARD
League table (after 9 September 2023 event): Dragons build their lead! Stingers and Fireballs are close together. I am nearly done trying to persuade myself and you that the 4 Aces have any chance at all.

BACKGROUND
This exciting new team event will run throughout 2023. There are 4 teams, each with a captain:
Dragons - Ami Guilfoyle, Fireballs - Steven Brader, 4 Aces - Simon Clegg, Stingers - Dietmar Bandat / Stefan Kuhn
Every active* member of the Londoners group in True Handicap is a member of a team (by a NFL style draft followed by round robin assignment). Points are awarded based on positions achieved at regular events (just like the Order of Merit e.g. if 32 players participate in an event then the winner scores 32 points, 2nd place scores 31 and so on right down to last place who scores 1 point) and the total of the points won at each event will decide which team won the event. Points are then awarded to form a league table
1st placed team - 10 points, 2nd placed team - 7 points, 3rd placed team - 5 points, 4th placed team - 4 points

As well as team points being awarded at Strokeplay event there will also be a Team Matchplay part to the competition at Rivalry Events. There will be 3 of these and each team will play each other once. The Rivalry Events are scheduled for 22 April, 26 August and 28 October. Captains will choose 6 players** from each team to face off in 2 pairs and 2 singles.
Team MatchPlay Details
Schedule:
22 April:
Fireballs vs Dragons : 9 - 7 which corresponds to 37 - 21 league points
Stingers vs 4 Aces : 9 - 7 which corresponds to 37 - 21 league points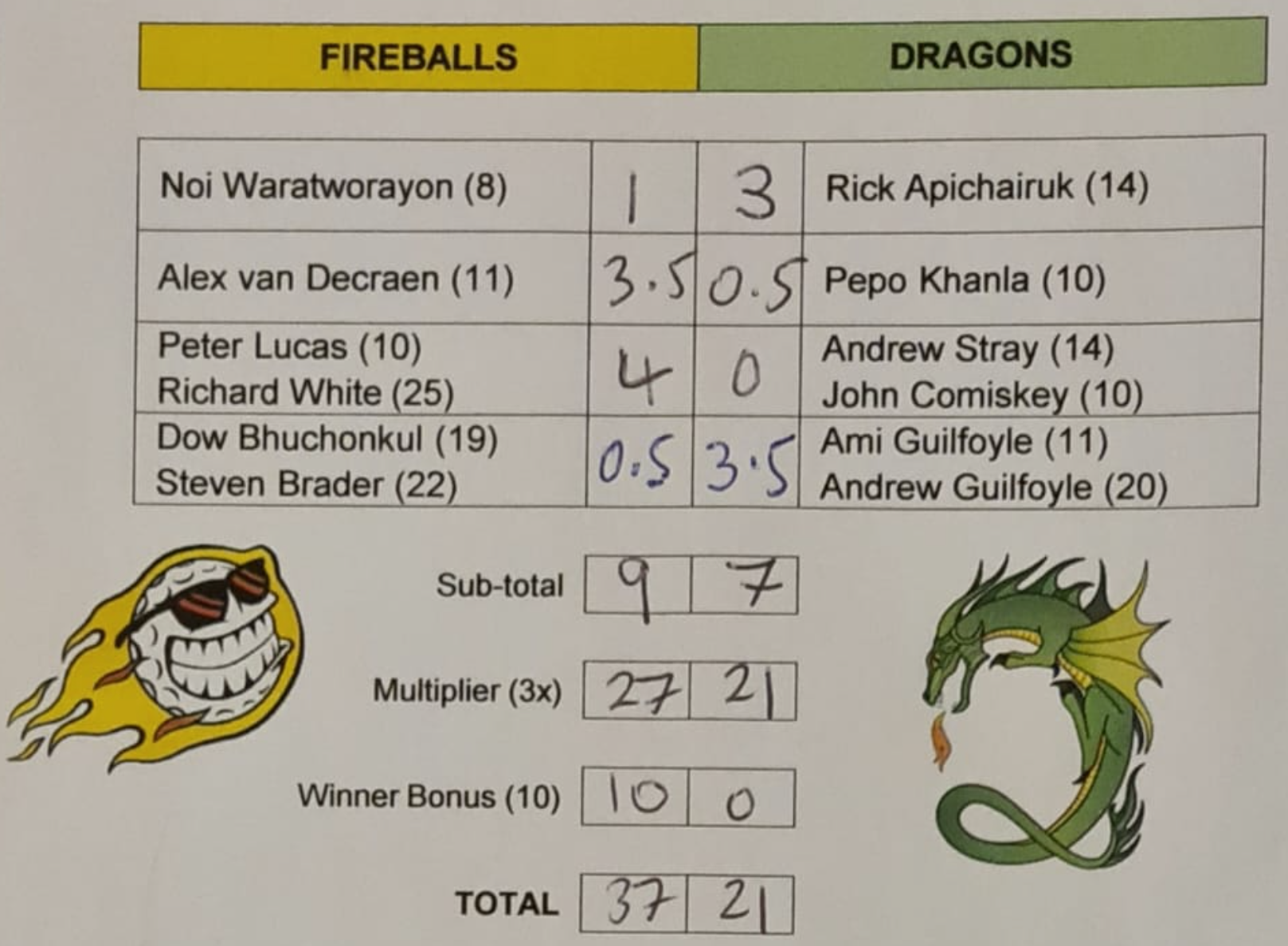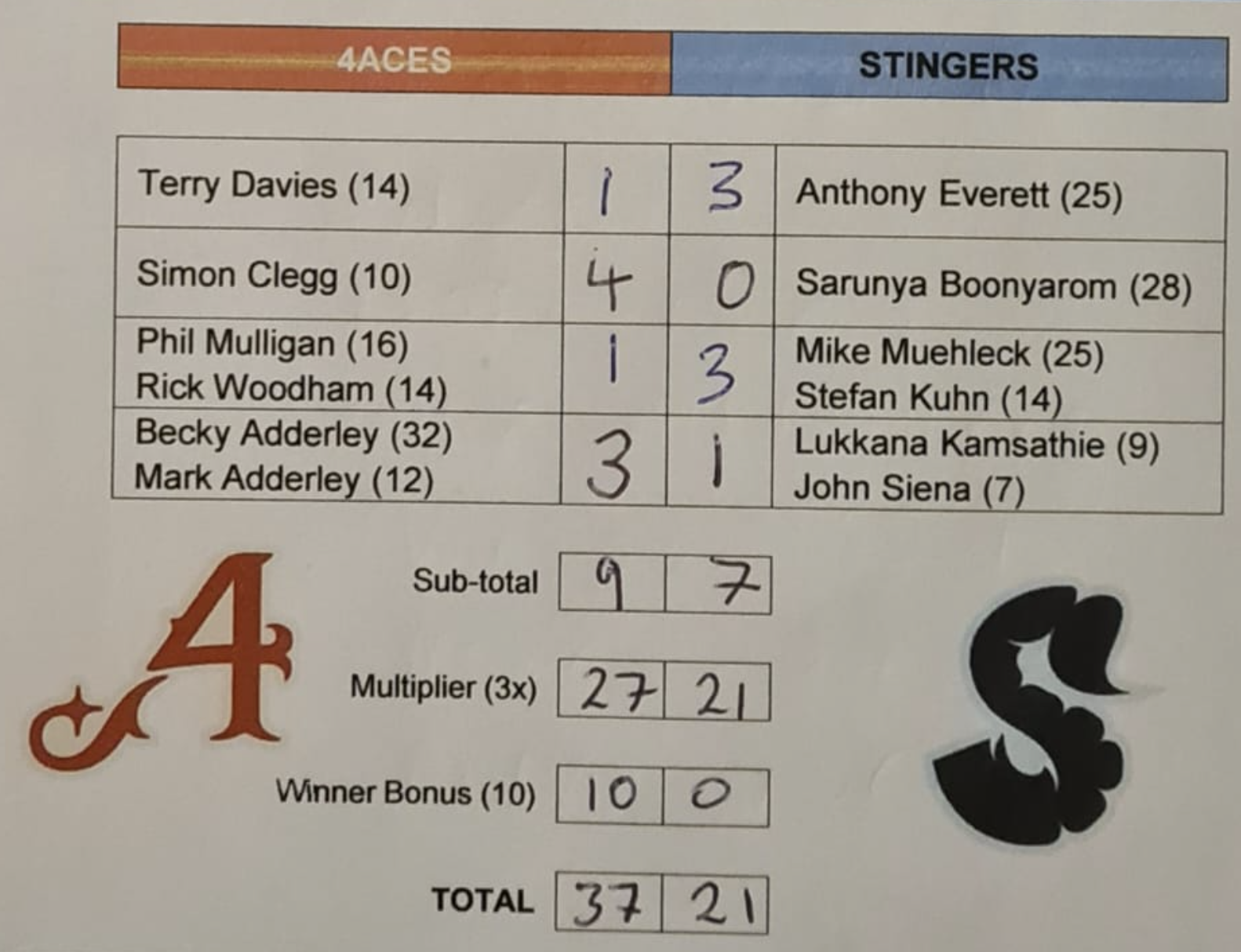 If you didn't get selected for your team on this occasion, have a chat to your captain to make your interest known!
26 August
Stingers won vs Fireballs: 9 - 7 which corresponds to 37 - 21 league points
Dragons tied with 4 Aces: 8 - 8 which corresponds to 29 - 29 league points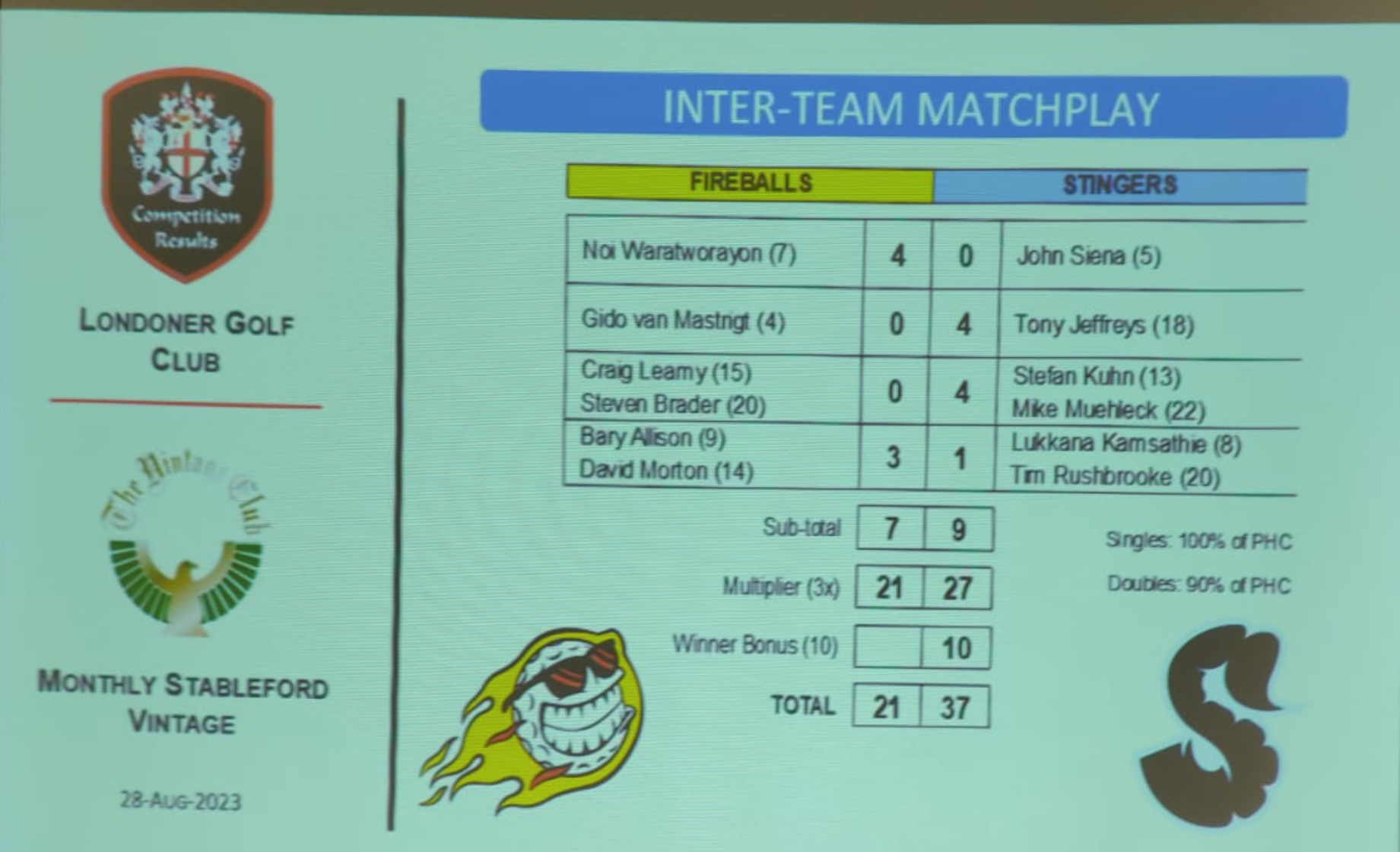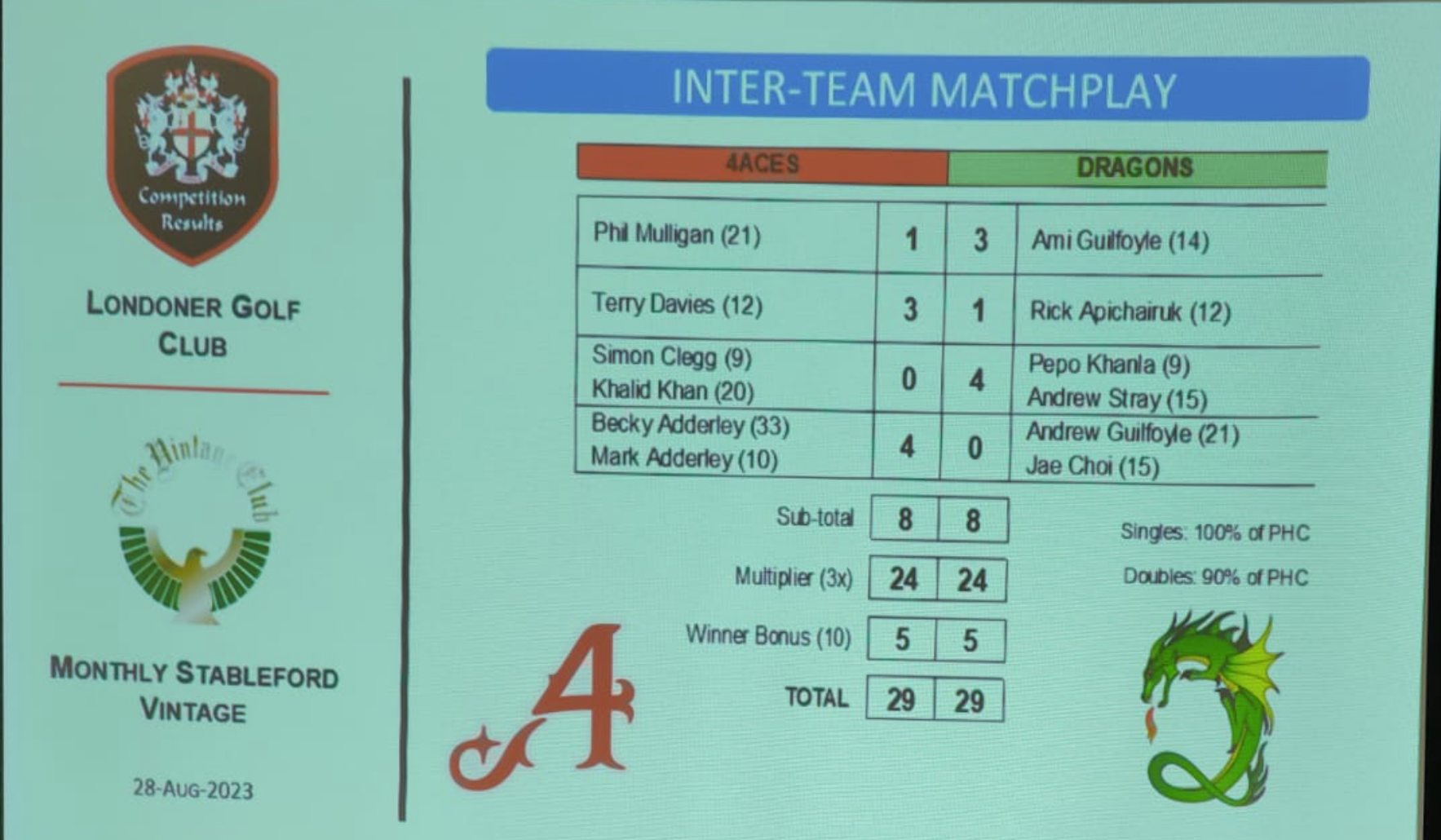 28 October
Fireballs vs 4 Aces
Dragons vs Stingers
Format:
6 players per team (2 pairs and 2 singles). Captain's choice.
Matchplay. 1 point for front 9; 1 point for back 9; 2 points for overall. 4 points awarded per game (just like the inter-society format).
*all players are in the StrokePlay individual competition, Team competition and Order of Merit same as normal – Strokeplay rules take precedence i.e. no gives; players must hole out.
Scoring:
16 points available (as 4 matches between each team during a Rivalry event)
Multiplier of 3 in operation to give MatchPlay additional weighting versus the Strokeplay comps
Plus 10 bonus points to the winning team (5 points for a tie; 0 for a loss)
Total points available – 58 (in theory a team could win by 58 to 0)
Example: 4 Aces vs Dragons
Pair 1: 4 Aces win 4 - 0
Pair 2: Tied 2 - 2
Singles 1: 4 Aces win 3 - 1
Singles 2: Dragons win 1 - 3
Total: 10 - 6
Multiply by 3 to give League points: 30 - 18
Win Bonus of 10 points to 4 Aces: Final League points: 40 - 18
This is a new competition for 2023 with tweaks and amendments expected. I do hope that you find it fun and enjoyable, that you engage with your team and it adds an extra element on top of your normal Londoner golf.
Cheers, Phil

* It is acknowledged that some players who are active in True Handicap have left Thailand or are infrequent Londoner golfers. Not to worry as it will not damage the competition as the distribution is even. You can think of the teams as like houses at school. New and returning members will be assigned to teams in a way that keeps the numbers even. [June 2023 update] the Team lists are now sorted into Active and Inactive players. New members will be assigned to the teams with the lower number of active players to help even out the numbers.
** If you do not like playing Strokeplay and MatchPlay at the same time then no worries, just let your captain know not to consider you for the MatchPlay rivalry events.
TEAM MEMBERS
The more active team players:
The inactive or occasional team players: